17.3" | Octa-Core | 2GB RAM & 32GB ROM | IPS Screen | Android Overhead Player | CM179AP
17.3" | Octa-Core | 2GB RAM & 32GB ROM | IPS Screen | Android Overhead Player | CM179AP

17.3" FHD 1080P IPS Screen Octa-core Android Car Roof Multimedia Player with HDR10+ 8K UHD Video Superior Sound and Screen Mirroring HDMI Input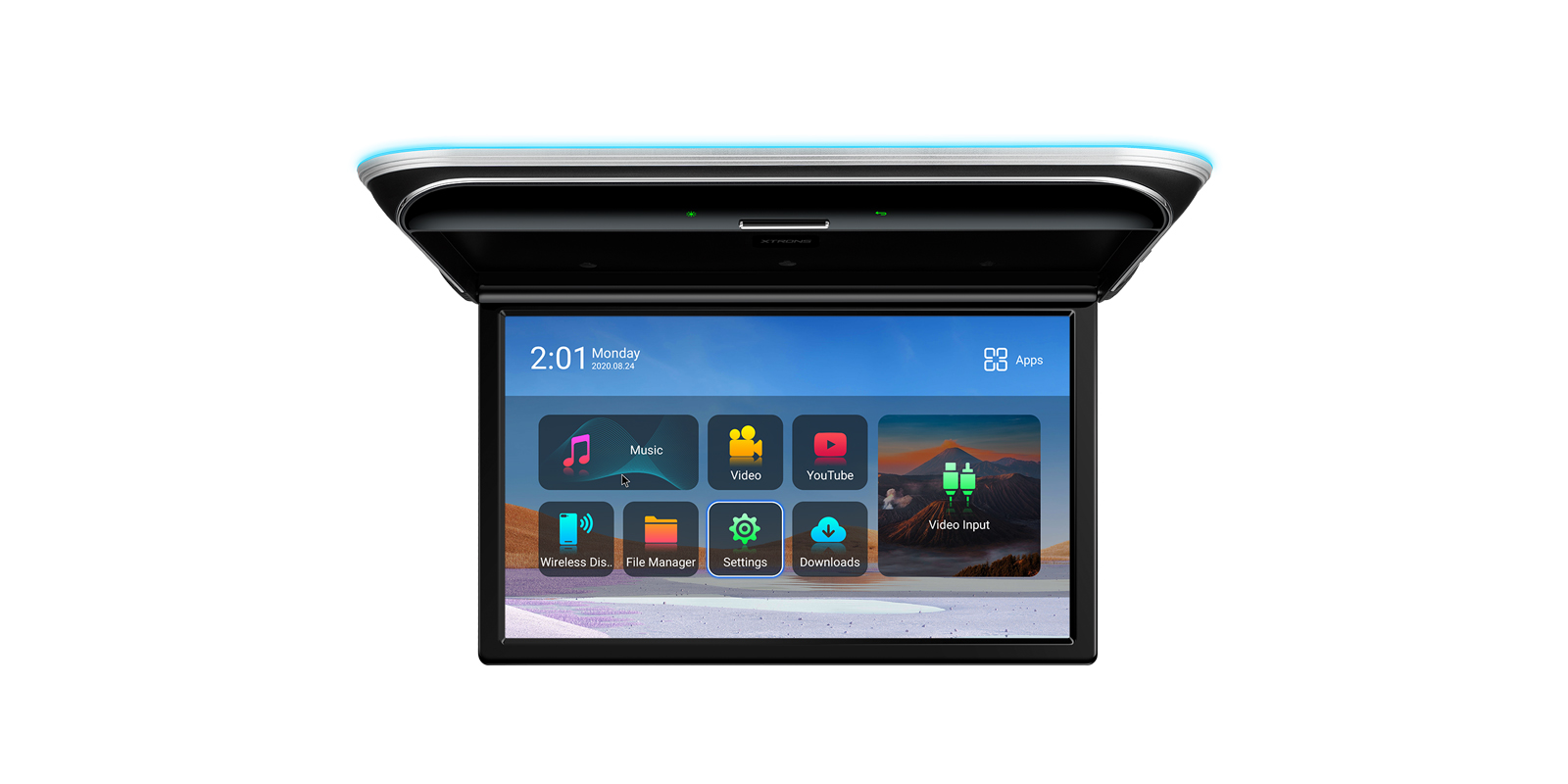 The First-ever Android Car Roof Player
Android 9.0
From YouTube to Vimeo, Spotify, Pandora and much more, XTRONS CM179AP Android Car Roof Player brings your favorite content together in one place, for a totally immersive experience, entering a new era of car entertainment. 
FAST AND EASY INSTALLATION
Please see our roof mounted installation guide 
Simple wiring and seamless integration with your car's interior, for outstanding entertainment with a discreet and stylish look.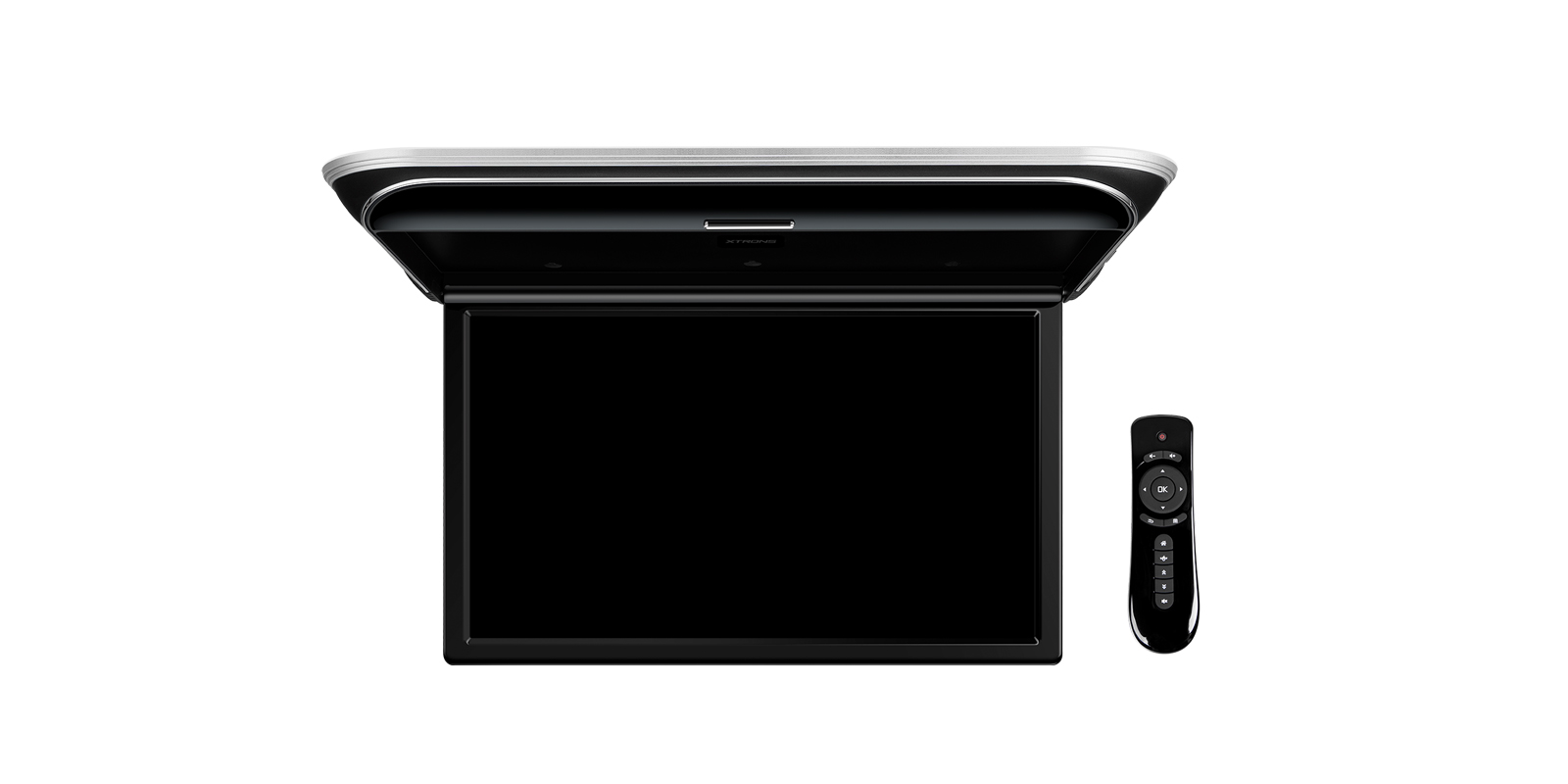 The Intelligence behind the Unprecedented Experience
Octa-core Processor plus 32GB ROM and 2GB RAM
Discover how fast and smart a car roof mount monitor can be with the improved premium hardware.
 - Octa-core Cortex-A55 CPU - 20% improvement compared to A53
- Mali-G31 GPU - 20% improvement compared to G51
- 2GB DDR4 RAM - 40% improvement comapred to DDR3
- 32GB ROM - 100% improvement compared to 16GB. 
More Onscreen Content
Higher Clarity
Featuring advanced HDR10+ technology, CM179A's industry-leading 17.3" 1080P FHD IPS screen delivers a truly immersive viewing experience, displays more content and resolves sharper images. The perfect choice for coaches, buses, and motorhomes. 
Virtual Touch Buttons
Keep Everything Tidy
The ingenious virtual touch buttons show up when the power is on, and are hidden when the unit powers off, automatically. Stylish and tidy.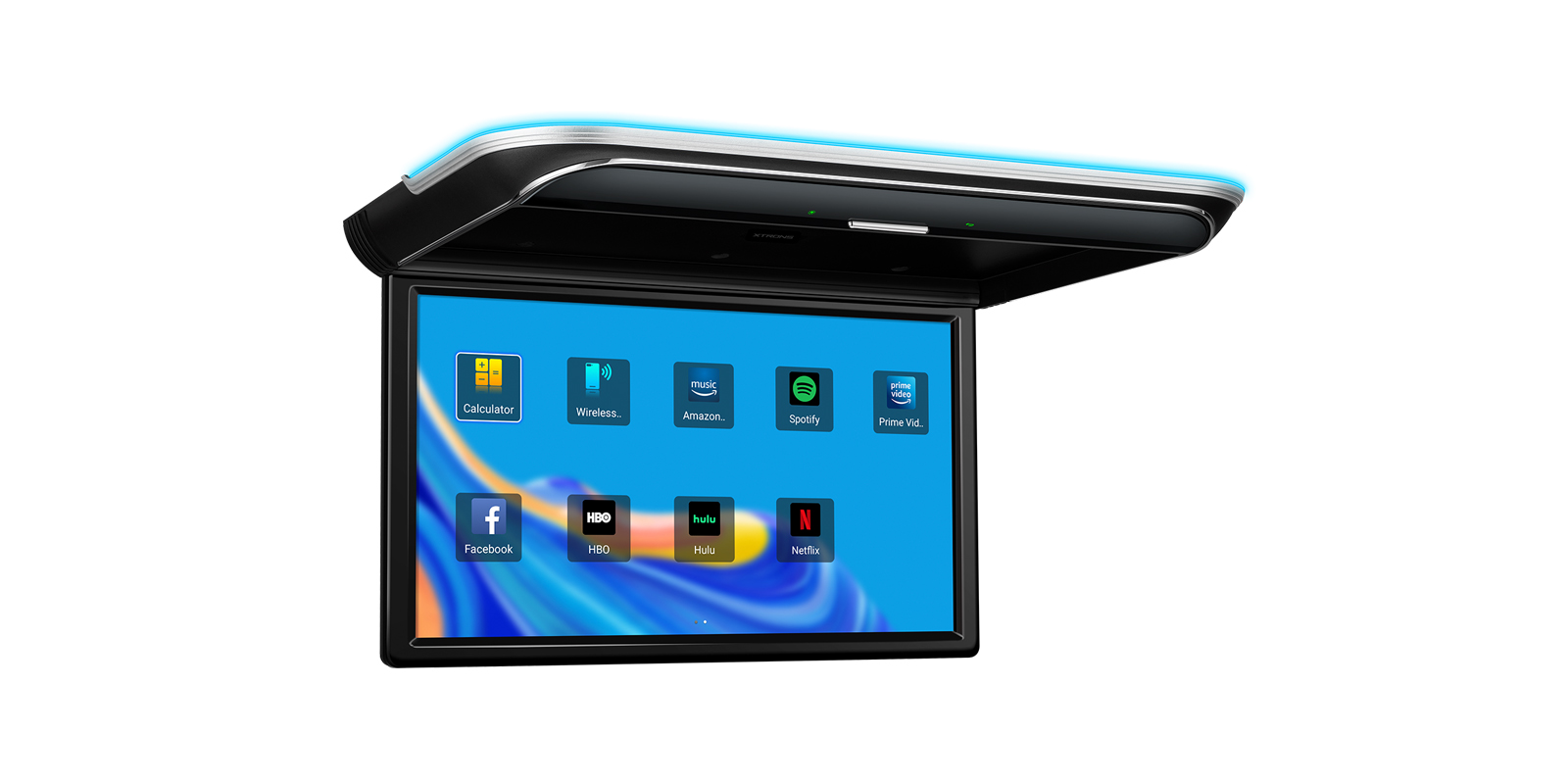 All New UI
Inspired Artistically
We have designed an all-new optimized UI, inspired by contemporary aesthetic trends. It not only looks better, but is also easier to navigate - you'll want to use it again and again.
1920x1080 Pixels
Screen Mirroring
16:9 Wide Screen
170° Rotatable Angle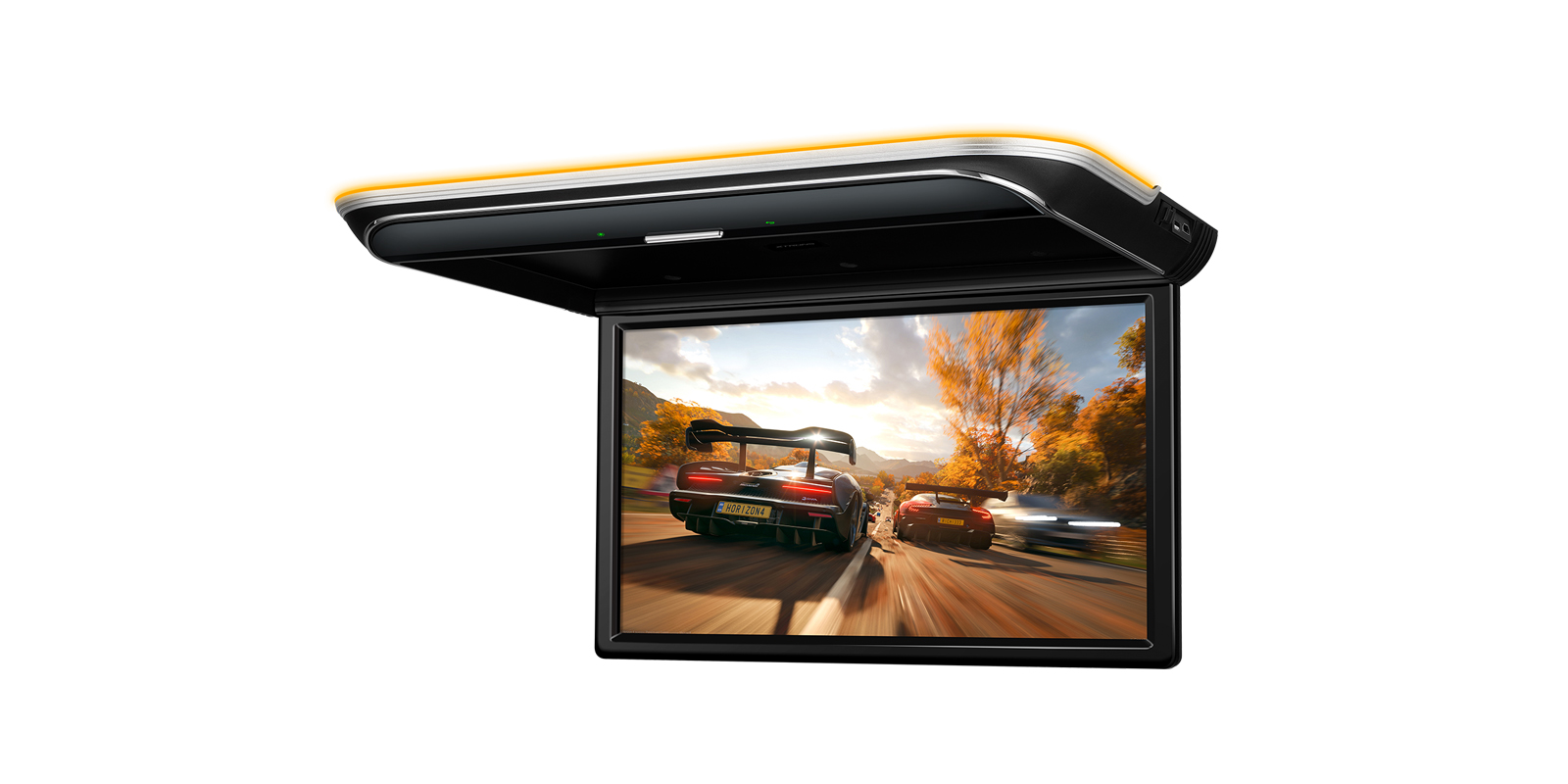 Built-in WiFi
Bluetooth 5.0
Supports 3G/4G
USB/AV/HDMI
 
Near-Limitless Audio and Video Pleasure
Supports a host of high quality video and audio formats, from video codec H.265/VP9/H.264/MPEG-4 to full audio codec and more, thanks to the class-leading technology. 
Colourful Aura Lighting
Offering deep visualisation in a truly unique way. Takes your style to the next level and reduces eye fatigue while improving viewer comfort at night. 
Automatic Lighting Control
The equipped dual dome lights can be integrated with the door-control to turn on or off automatically for safety. 
High Power Speakers
Superior Sound Everywhere
The built-in high powered speakers deliver elegant audio, from highs to lows, with superior purity and precision, enabling every passenger to have an immersive listening experience from every seat of the vehicle. 
It also supports output audio through IR headphones, Bluetooth headphones, FM transmitter. 

Support FM-TX: 87.7, 88.1, 88.5, 88.9, 106.7, 107.1, 107.5, 107.9 OFF
Support IR-TX:A & B Channel, A:2.3-2.8MHz B:3.2-3.8MHz
Built-in WiFi Module
Faster Transmission Speed
With built-in high quality WiFi, it unlocks blazing quick data speeds, giving you the power to download music, stream videos or install apps with minimum lag. 
SIZE
Folded Size: 475x340x38mm
ACCESSORIES INCLUDED
1 x Remote Control
1 x Power Cable
6 x Nuts 
1 x User Manual
Please check the size of the bottom plate of the roof unit and the installation space.   
Folded Size: 336x278x34mm
This Android roof unit supports 1 set of Bluetooth headphones only.
15 YEARS' EXPERIENCE
In-Car Entertainment
XTRONS has been working continuously to bring the latest technology and infotainment solutions to your driving. Our passionate and experienced R&D team equip our products with exclusive design, high quality components and the best coding communication between our products and your vehicle. 
The Xtrons Commitment
XTRONS is committed to providing high quality products and outstanding customer service, by ensuring that we meet and exceed industry regulations and standards, from manufacturing to distribution.
High and Low-Temperature Test between -20° and +80°
Electrostatic Test
8-hours Accelerated Aging Test
Verified In Car Test
Impact Test
1.2 Metre Drop Test
HD

High Definition provides a crisp resolution, maximising your in-car entertainment experience.

Bluetooth

Hook up your head unit to any Bluetooth device and access music, share videos and make calls hands-free.

4G

Make the most of surfing the internet without relying on Wi-Fi. Optional dongle required.

3G

Enjoy the ability to roam the internet freely without restriction. Optional dongle required.

Wifi

Built in Wi-Fi allows for faster LTE download speeds and greater access to the internet, wherever you are.

Touch Screen

Multi-touch screen, provides a remarkably fluid and intuitive operation.

USB

A built-in USB port to upload, download & connect your music, files and information on the move.

DVB_T

Benefit from Digital Video Broadcasting & stream straight to your unit with an optional receiver.

HDMI

Connect & transmit your digital audio & video to display on screen.

Octa Core

An eight-core configuration which allows optimum speed and performance, especially when multitasking.

Screen Mirroring

Mirror your smartphone to the unit and operate all the entertainment features. Play games, watch videos and enjoy.
Product Support
Installation Videos

Product Videos

User Manuals

User Guides

Customer Support